SpyHunter 4 Review
Full and Custom Malware Detection Scans
Detects and Removes Known and Unknown Malware Infections
Provides Real-Time Protection from Malware Infections
Detailed Malware Scan Results Report
Internet Explorer Homepage Protection from Hijackers
Inbuilt Spyware Help Desk – for Custom Spyware Fixes
Advanced DNS Protection – Notifies You of Unauthorised Malicious DNS Changes
Windows HOSTS File Protection
Is Spyhunter 4 Legit?
SpyHunter 4 is a program designed to rid your computer of spyware, malware and other types of intrusions that you can accidentally pick up during your travels on the Internet. These types of computer programs can slow down your machine, cause data loss and even lead to identity theft if left completely unchecked. SpyHunter 4 allows you to scan your computer's hard drive and wipe out all intrusions that are detected in a few quick clicks of your mouse.
The main benefit of SpyHunter 4 is that it is well versed in the removal of other types of threats beyond regular spyware. Adware, browser hijackers and rogue registry entries are all targets for a SpyHunter 4 full system scan. The program even includes tools to prevent phishing scams online, which is a feature not commonly found in other similar types of utilities. Phishing scams are attempts by untrustworthy individuals to gain access to accounts by way of stolen passwords and other information. Your credit card accounts could also be vulnerable to phishing scams.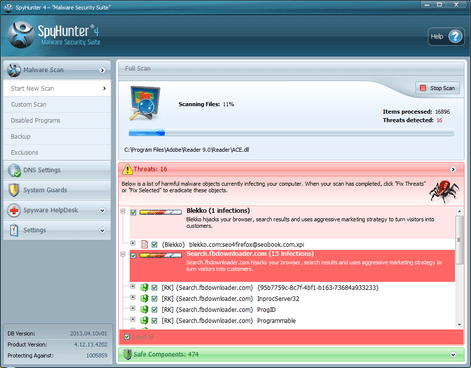 Full/Custom System Scan:
Spyhunter 4 comes with the ability to perform a Full or Custom scan of your computer to find and remove malware infections.
While the Full scan option targets all partitions and takes longer to complete, the Custom scan option saves you time by allowing you to specify areas of your system that you wish to perform a scan for malware infections.
These custom scans types include – memory, registry, cookies, files and rootkits custom scan types.
Maintains a Backup of Removed Objects:
Spyhunter stores all items removed from your computer after a scan and fix-all operation for easy access if you ever need to restore them for any reason. This can be useful in cases when you use to the tool to accidentally remove an item that is not necessarily a malware – but a key component of a genuine application. The feature allows you to rollback the item to its previous state before the removal operation and restores functionality to the affected application.
Scan Exclusions Manager:
An included Exclusions Manager allows you to prevent future "scan and fix-all" operations from detecting and recommending for removal certain programs and applications you do not wish to remove.
System Guards Process Protection:
The process protection feature included in Spyhunter gives you total control on what processes can run on your system. Keeping an eye on the processes that run on your computer can help you identify and prevent malicious processes from executing.
To make this feature less technically tasking to implement correctly, Spyhunter 4 has automatically white-listed known good Microsoft Windows system files for user's convenience.
System Guards Registry Protection:
Certain malicious computer infections have been known to make an "auto start" entry in the system windows registry. This enables the malware process to automatically start them.
The system guard registry protection feature included in Spyhunter 4 – once activated in the control panel, prevents this from occurring. This gives you total control on what processes are authorised to auto start themselves and prevents malware from exploiting your system windows registry to auto start malware processes.
Advanced ActiveX Blocking Capabilities:
ActiveX controls play a key role in several browser functionalities but are also often exploited by malware programs to secretly embed themselves in your system by taking advantage of browser security vulnerabilities.
For user's protection, Spyhunter maintains a regularly updated online database of malicious ActiveX Objects which is loaded to a "blocked list" within the program. This allows the tool to automatically block any malicious activeX objects.
HOSTS File Protection (Phishing Scam Protection):
Cyber criminals employ phishing tactics to extract your identity and financial details. Phishing scams rely on faking the appearance of a legitimate website to trick victims into supplying personal as well as financial details.
Sometimes these criminals first infect your system with malware which tampers with your HOSTS files to point legitimate domains (like your bank's website) to their phishing website.
Spyhunter 4 comes with the ability to protect your HOSTS files from un-authorised modification. Similarly, you are also able to prevent modifications from being carried out on your system files without your authority.
Advanced DNS Protection:
Certain Trojans have been known to attempt to replace DNS servers with their creator's malicious DNS servers. When successful, these rogue malware creator's can innocently redirect legitimate websites that you try to access, to a fake or phishing website where they can innocently ask for and steal confidential information.
An included feature in Spyhunter 4 allows you to lock your DNS settings to prevent this kind of malware interference.
Internet Explorer Homepage Protection:
Spyhunter's internet explorer homepage protection feature allows you to secure your favourite internet explorer homepage from possible hijack by malware.
Detailed Malware Scan Results Report:
At the end of a Full or Custom Scan, Spyhunter 4 clearly displays – an easy to understand detailed report of item founds. The report is divided into 3 main categories; Threats, Safe Components and Unknown Objects.
User Friendliness:
SpyHunter 4 is very user friendly and features an interface similar to many other antispyware and antivirus applications. The various functions of the program are separated into categories that are listed in a column along the left side of the program's main screen. Selecting a category brings up a series of related options in the main portion of the window. Users can perform most functions, even full system scans, with only a few mouse clicks.
Tech Support:
Technical support for SpyHunter 4 is offered in a few different ways. The program itself comes with a digital manual that users can browse to get a better feel for how the program works. The SpyHunter 4 features both online documentation as well as a "Live Chat" that can be used to answer more advanced questions. If a specific question is not answered through any other outlet, you can also e-mail a technical support professional.
Regular Updates:
Updates are downloaded automatically through the main SpyHunter 4 program window. If updates are available to the program itself or to the antimalware and antispyware databases, the user will be notified before the download begins. Definitions and databases are updated daily.
Rootkit Removal:
One of the program's strengths is its ability to identify and rid your computer of complex rootkits. A rootkit is a specific type of malware that uses various methods to hide its existence. A rootkit then allows a hacker or similar type of person to gain access to your computer completely undetected. SpyHunter 4 can rid your computer of rootkits during regular system scans.
Realtime Monitoring:
SpyHunter 4 also supports real-time monitoring, which is a definite plus. If a malicious program tries to execute itself, even if SpyHunter 4 isn't actually performing a scan, the malicious program will be stopped in its tracks and removed from your system immediately.
Spyware Library Updates:
Antimalware and antispyware definitions are important, which is why it's great that the team behind SpyHunter 4 releases definition updates on a daily basis. These updates make sure your copy of the software can rid your machine of the latest threats with each scan.
The Bad…:
Email Scanning:
No e-mail scanning capabilities whatsoever. Similar programs scan hyperlinks, images and even attached files in your e-mail messages for threats before you open them. As many different instances of spyware and malware can be downloaded to your computer through e-mail, this is a feature that is missed.
Removable Media Scan:
While SpyHunter 4 will certainly scan all hard disk drives installed in your computer's case, any USB flash drive or USB external hard drive you may have is not supported by the software's many scanning tools. As these locations are also susceptible to digital threats, leaving them vulnerable through lack of support is certainly disappointing.
Conclusion:
Basic computer users in need of a quick and easy to use antispyware and antimalware solution will benefit the most from SpyHunter 4. More advanced users will wish features like drive-by download protection had made the cut. For those who just want a program to both get rid of existing threats and prevent new ones, SpyHunter 4 is the solution to those issues. For the best possible results, your computer should have an active Internet connection at all times while using SpyHunter 4. With an active Internet connection, daily updates to definitions can be downloaded and installed automatically.